Cheers to Zero Emissions – A Partnership With Nikola Motors & Annheuser Busch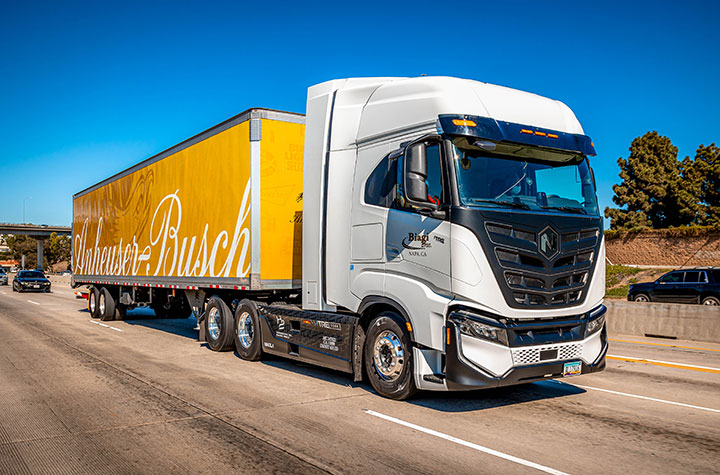 Biagi has partnered with Anheuser-Busch (AB) and Nikola Corporation to deliver AB's first zero carb beer, Bud Light NEXT, in the most sustainable manner with the Nikola Tre fuel cell electric vehicle (FCEV), just in time for the big game! This was a milestone event for all those involved, and it was an exciting honor for Biagi to make the delivery.
Trucking is a vital part of the American infrastructure and is an area that impacts our environment on a larger scale, accounting for approximately one-fifth of total U.S. greenhouse gas (GHG) emissions. For that reason, Biagi Bros has committed to do what we can to help offset our industry's carbon footprint by transitioning to cleaner fuel solutions alongside Nikola, who is transforming the transportation industry in this regard. We are incredibly proud to be one of the first to test drive these trucks with the intent to make significant strides towards the core initiatives that we value most.
As part of this product launch, we recently did a test run from Arizona to California in the Nikola Tre FCEV and were able to make the full run on the initial fueling with plenty of hydrogen to spare.  Additionally, we were thrilled with the overall driver experience as the Tre FCEV provided instant power, impressive acceleration, and quiet handling, all with zero-emissions. This innovation provides greater long-term efficiency and energy density, becoming a more effective option in the overall total cost of ownership equation.
Biagi is ready to evolve further as we seek to lead the way in sustainable choices that will impact a greener future. We look forward to many more innovations to come and are grateful for the continued support and equal enthusiasm about making a difference. Cheers to a cleaner, greener future with zero-emissions!
Take a behind-the-scenes look at the ongoing alpha Nikola Tre FCEV testing as the trucks traveled from HQ to Ontario, CA.
"Eat, sleep, test, repeat. #DrivingChange S3: EP 1 is here with a behind-the-scenes look at the ongoing alpha #NikolaTre FCEV testing as the trucks traveled from HQ to Ontario, CA, just in time for the game day #zeroemissionsbeerdelivery with @Anheuser-Busch. A jam-packed episode with one epic moment after another!"
Please follow and like us: