Anheuser Busch Recognizes Biagi Bros with a DC Network Spotlight commendation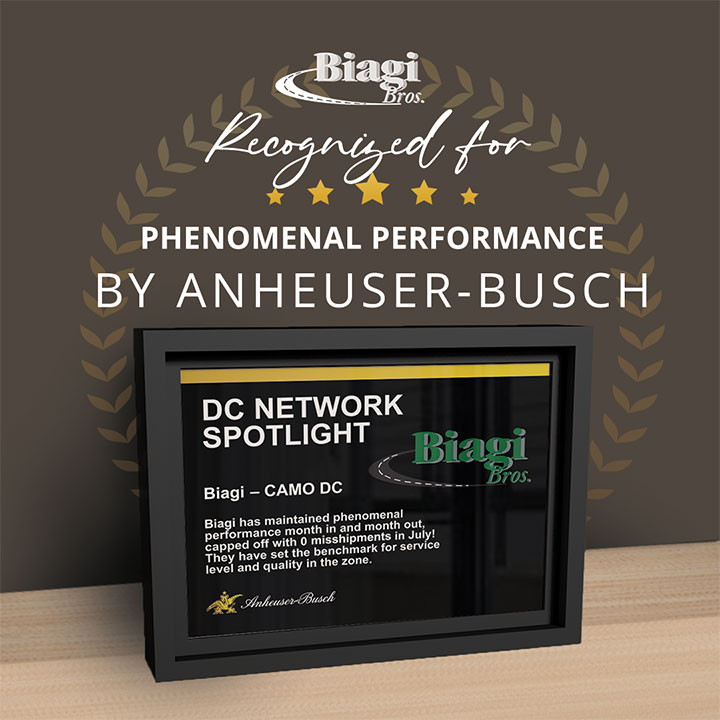 Insights to being a Great 3PL Provider
In the world of logistics, dedication and excellence navigate the path of success. At Biagi Bros, these values are not just words but the driving force behind our recent acknowledgment from Anheuser Busch. This accomplishment, known as the "DC Network Spotlight," recognized us for consistently excellent performance capped off with zero misshipments in July. We are grateful for our dedicated team, who helped us achieve this, and the partners who place their trust in us.
In light of this recent acknowledgment, we would like to recognize the attributes that define a great 3PL provider. It inspires us to contribute to the industry's growth by sharing valuable insights into the qualities that make a great 3PL partner.
Reliability and Consistency
At the core of every exceptional 3PL provider lies a foundation of reliability and consistency. Great providers understand that their clients' operations hinge on timely and accurate deliveries, and forging that trust forms the foundation of a successful partnership.
Comprehensive Expertise
A great 3PL provider understands the intricacies of supply chain management, logistics optimization, and industry best practices. This expertise empowers them to navigate challenges with finesse and offer insightful solutions that improve efficiency and drive cost savings.
Innovative Technology Integration
Technology is the bridge to enhanced efficiency and visibility in today's tech-driven landscape. Leveraging state-of-the-art logistics software, real-time tracking systems, and data analytics allows 3PL companies to provide clients with accurate insights, proactive issue resolution, and a comprehensive view of their supply chain.
Proactive Problem Solving
Challenges are inevitable in the world of logistics. What sets a remarkable 3PL provider apart is their proactive approach to problem-solving. Instead of waiting for issues to escalate, they anticipate potential disruptions and take pre-emptive measures to ensure smooth operations.
Commitment to Continuous Improvement
The logistics landscape is ever-evolving, and a great 3PL provider embraces this change. They have a culture of continuous improvement, constantly seeking ways to refine processes, adopt new technologies, and stay ahead of industry trends to provide clients with practical solutions.
Client-Centric Focus
Ultimately, what makes a 3PL provider genuinely great is their focus on their client's success. They view themselves as partners, invested in helping their clients achieve their goals. This client-centric approach drives every decision and action, creating a solid foundation for enduring and mutually beneficial relationships.
In conclusion, our recent acknowledgment from Anheuser Busch is a testament to the values that define Biagi Bros—a commitment to excellence, a passion for innovation, and dedication to our clients. As we move forward, we are excited to continue setting new standards for what it means to be a remarkable 3PL provider.
Please follow and like us: